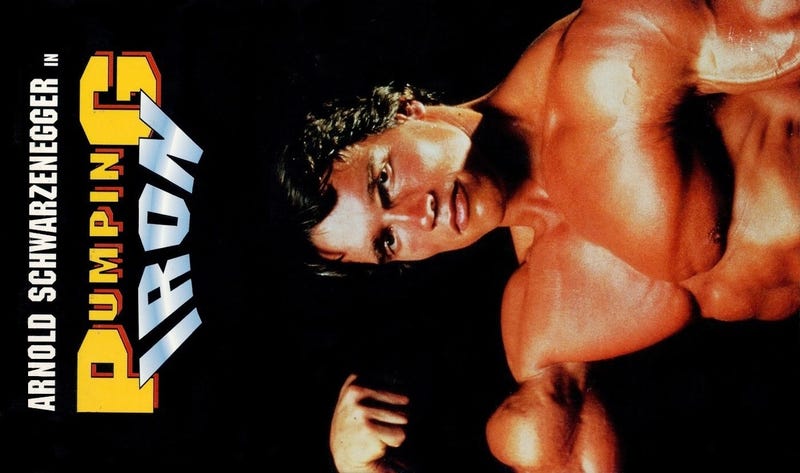 "I called my mother yesterday already and I said I won." - Arnold Schwarzenegger
This quote is near the end of Pumping Iron, a documentary about the world of competitive bodybuilding. It takes places during a lunch conversation between Arnold Schwarzenegger and Lou Ferrigno, days before the Mr.Olympia competition they are both competing in takes place.
It is only one of the many subtle mental jabs that Arnold throws throughout the conversation.
Arnold is often remembered because of his physicality. The only man who could embody Conan the Barbarian, defeat the Predator, and become the Terminator.
However, Arnold was a machine far before he was asked to play one by James Cameron. He would commit himself to hours and hours of grueling exercise in order to achieve his god like body but Arnold always had the machine like mind.
It it not the body of a machine we fear as humans but the mind. We fear the things that we believe are smarter than us. A machine will always use logic, ignoring emotion, to determine its movements, its strategies. A machine will win at any cost, through any measures, even if it means destroying itself.
Arnold was always a machine, a mass of muscles who used his mind not only to push himself to his physical limits but to intimidate and manipulate his competitors. It is what made him so great at his bodybuilding, acting, and political career. He always put the mental battle before the physical.
Pumping Iron gives you a look into the world of body building but better insight into the mind behind Arnold Schwarzenegger's muscles.
Plot
The documentary is split into two parts. The first part follows Mike Katz, a former professional football player turned bodybuilder. After suffering a career ending leg injury while playing for the New York Jets, Mike decides to become a body building competitor. Driven by the memories of the bullies in his past, he is determined to win the Mr. Universe title. The only thing standing in his way, himself.
The second part, documents the rivalry between Arnold Schwarzenegger and Lou Ferrigno who are both vying for the title of Mr. Olympia. Arnold, a 10 year veteran of the sport, is looking for his sixth straight title and Lou, a relative newcomer, wants to be the man who dethrones the machine. The film follows both men as they train for their inevitable showdown, contrasting both men's workout routines and demeanor. Arnold an extrovert and hedonist works out at Golds Gym, a places that people are sure to see him. Lou an introvert and quite timid chooses to work out in his father's basement gym. Both men are on a crash course for each other, but there is one last thing that will determine who will be Mr. Olympia, the psychological warfare.
Rating

Arnold Schwarzenegger is a man whose whole career is best defined by the definition of his muscles. The only man, to become a machine, to play a machine. Arnold will always have a legacy built on physicality but Pumping Iron illuminates another side of Arnold that many people are unaware of, the mind behind the muscles. It is what separated him from his competitors. His willingness to use his brain over his brawn when it counted the most. Pumping Iron is a captivating documentary about bodybuilding and well worth a watch, especially if your interested in the life of Arnold Schwarzenegger.
In a sentence
Pumping Iron is a great documentary about the world of weightlifting, but a better documentary about Arnold Schwarzenegger, the man, machine and manipulator.
Rotten tomatoes: 96%
IMDB: 7.5/10
My Rating: 4 Blunt Out Of 5
---
Bonus Video (Arnold Talking About Cumming)
---
"You can escape purgatory, but you can't escape Hell." - Priest in My Left Foot

This has been day 7 of 30 VHS In 30 DAYS. My journey to the center of VHS Hell. Special thanks to I Luv Video in Austin, The World's Largest Video Store, for being my spiritual and literal guide through VHS purgatory.