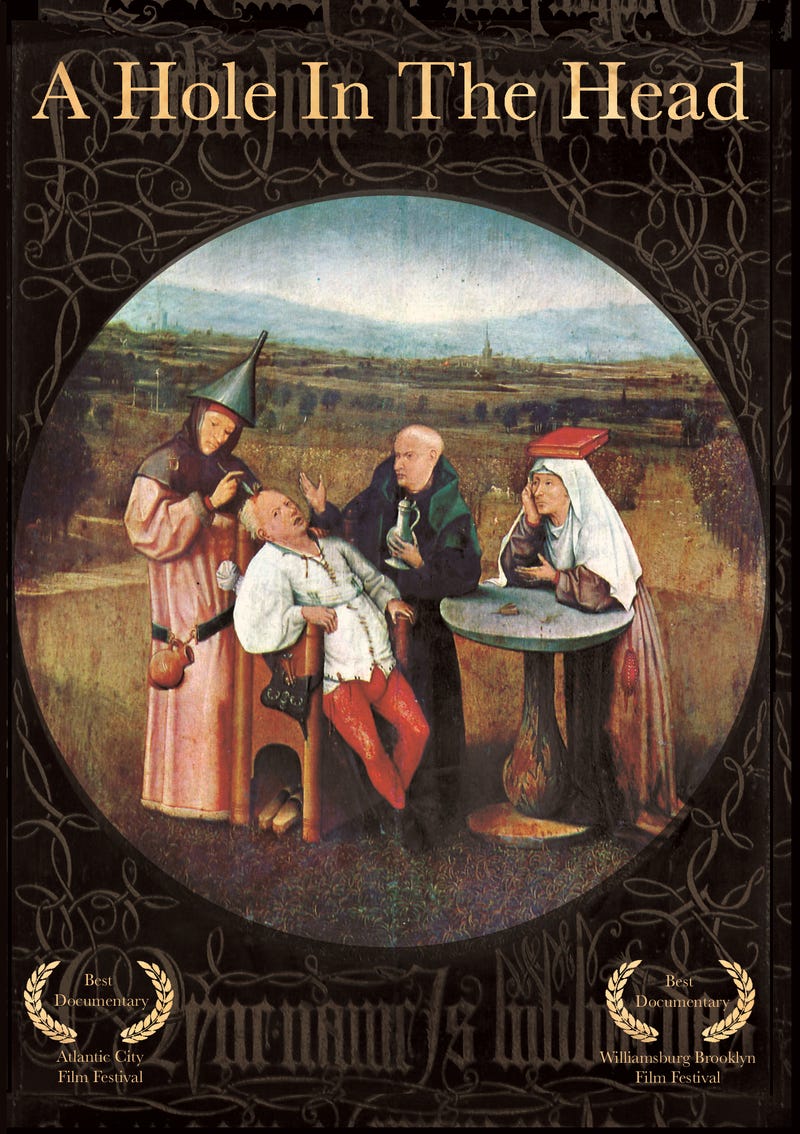 "I did it in the middle of the night...It was finished in half an hour, but it took me four hours to get the blood off the walls. " - Bart Huges
At the bottom of River Azimuth, across the stream, I see a group of men, or things that look humanoid, staring at a large black obelisk. From my point of view, I can see two, giant spinning white cogs inside the giant black block.
The men sit in a half circle in front of the obelisk, they chant a language that I can't understand. It sounds like someone playing a vinyl record in reverse. In unison, they pick up sharpen picks made of bone and begin to hammer them into their heads. Like a railroad worker trying to connect pieces of steel.
As blood begin to pour from their faces, the side of obelisk opens up and strands of magnetic tapes flow out. Each man grabs a strand of tape and shoves it inside their now exposed skulls.
---
The process of drilling a hole in the skull is called Trepanation. It is one of the oldest medical practices in the world and as is still performed today. In the past trepanation, was used to release evil spits from a person minds, today it used to treat epidural and subdural hematomas. However, there is a subculture of people who believe by drilling holes into their own heads it affords them a higher level of consciousness.
A Hole In The Head is a documentary about trepanation and delves into the minds of people who choose to drill into theirs. Are they delusional, or have they discovered the process to higher consciousness?
Documentary
You can watch A Hole In The Head right here, it is only 55 minuets (WARNING GRAPHIC):
Rating
It is hard to say if A Hole In The Head is good. Like some of my favorite documentaries, it doesn't chose sides in the argument for trepanation. The documentary merely provides information from people on both sides. If anything, I wish the documentary was a bit longer. Providing more background information into who these people, who choose to drill into their skulls, really are. A Hole In The Head will keep your attention even if it make you want to look away.
In a sentence
A Hole In The Head is a fascinating and slightly eerie documentary inside the minds of people who choose to drill inside their skulls.
Rotten Tomatoes: Not Enough Reviews
IMDB: 6.7/10
My Rating: 3.0 Skulls Out Of 5
(WARNING GRAPHIC GIF)
---
"You can escape purgatory, but you can't escape Hell." - Priest in My Left Foot

This has been day 10 of 30 VHS In 30 DAYS. My journey to the center of VHS Hell. Special thanks to I Luv Video in Austin, The World's Largest Video Store, for being my spiritual and literal guide through VHS purgatory.